Product Overview:Air Classifier Mill is a kind of ultrafine mechanical pulverizer, which is a fine impact pulverizer that integrates grading and crushing. By adjusting the classification wheel, crushing rotor shape, rotor speed, etc., the crushing size of the product can be flexibly controlled. Generally, products with an average particle size of 10-100μm can be produced. According to the requirements of material characteristics, different PLC automation programs can be set, and customized selection and manufacturing can be made. The ultra-fine mechanical pulverizer is widely used for fine pulverization and ultra-fine pulverization of materials such as chemicals, medicine, food, minerals, and building materials.
Keyword: Air Classifier Mill
The working principle of the hammer mill is that the material enters the crushing bin, and the powder is impacted by the high-speed rotating grinding knife, mainly by the impact effect to crush the material. The material enters the hammer mill and is crushed by the impact of the high-speed rotating hammer head. The crushed material obtains kinetic energy from the hammer head of the hammer mill and rushes to the baffle and screen bar in the frame body from the high-speed. At the same time, the materials collide with each other and are crushed many times. The materials smaller than the gap of the screen bar are discharged from the gap. Some larger materials are impacted and ground by the hammer again on the screen bar, extruded and crushed, the material is squeezed out of the gap by the hammer head of the hammer breaker to obtain the product of the required particle size. The feed inlet is equipped with a star-shaped blanking valve to control the blanking speed and prevent dust from being generated during the crushing process.
Air Classifier Mill
FJM air classification mill is a widely used pulverizer, collectively referred to as air classification mill. There are many deformation designs according to different classification forms, but the new type of grinding is the same, the crushing hammer head driven by the high-speed crushing plate drives the material to be subjected to various crushing forces such as impact, collision, friction and shearing in the crushing zone formed between the non-crushing gear rings, so that the product with material crushing to fineness enters the collector for collection through the role of the grading rotor in the grading zone, and the coarse powder falls into the crushing zone to continue crushing, completing a crushing and grading operation cycle.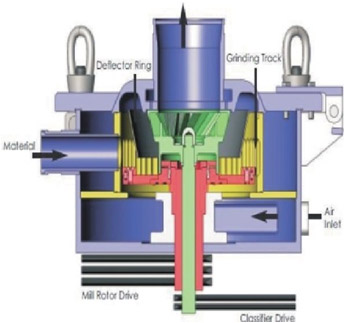 Technical Parameters TECHNICAL PARAMETER
Equipment Model Equipment model
FJM280
FJM350
FJM450
FJM760
Power(Smashing disc)
7.5Kw
11-15Kw
22-30Kw
44-55Kw
(Power Staged impeller)
1.5Kw
2.2Kw
4-5.5Kw
7.5-11Kw
Speed(Smashing disc)
7500r/min
6200r/min
4200r/min
2800r/min
Speed(Smashing impeller)
500-4500r/min
500-4500r/min
400-3000r/min
300-2500r/min
Maximun processing air volume
700m/h
900m/h
1500m/h
5400m/h
Crushing particleusize
10-200um
10-200um
10-200um
10-200um
Priducstion
10-100kg/h
10-100kg/h
10-100kg/h
10-100kg/h